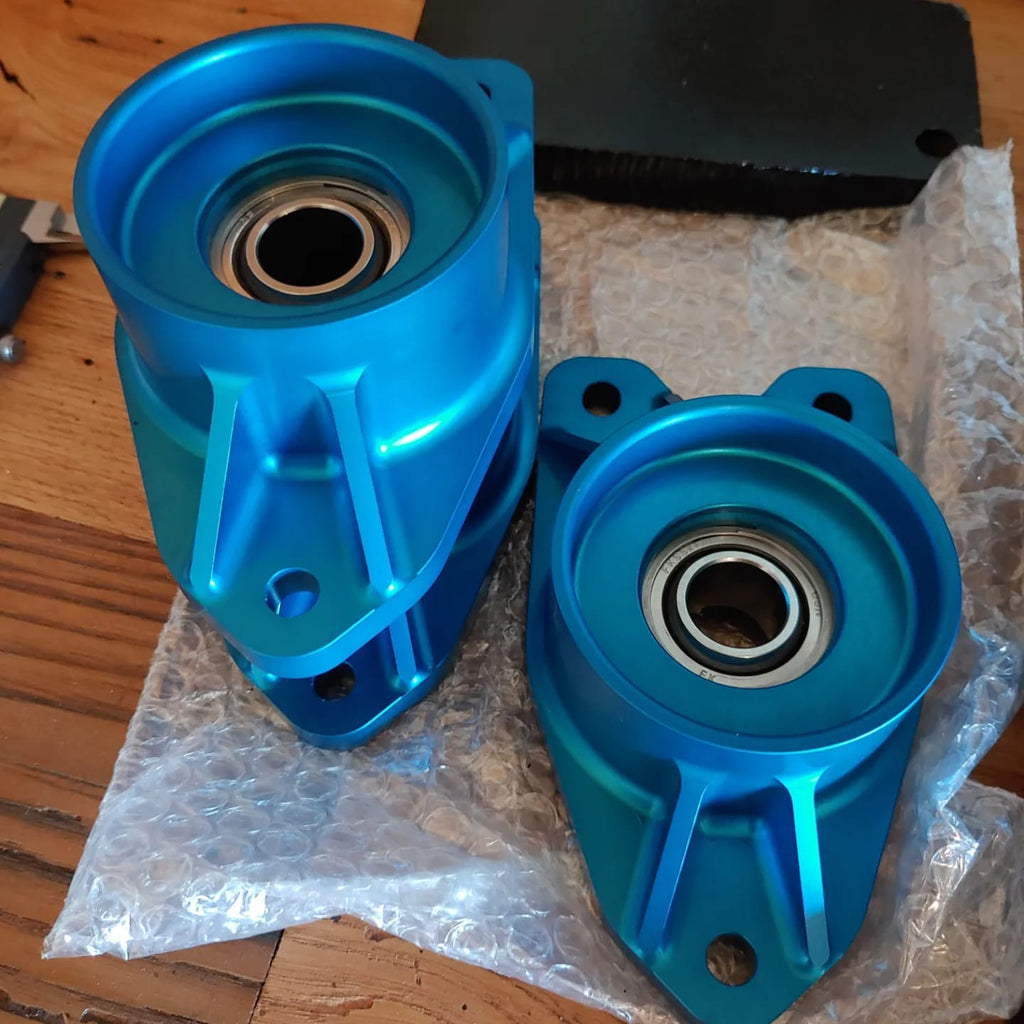 On Sale
F8X Spherical Rear Upper Shock Mount
Currently working through fitment options for the F8X platform with various aftermarket shocks.  I may have what you need so please email me with requests.  Currently the design does not work with EDC dampers, the next revision will.
This order is for F8X rear shock mounts.  Your order will include:

2 anodized 6061-T6 shock mount bodies with Aurora/FK teflon spherical bearings installed
Damper specific adapters and nuts
2 BMW 

33506866038 gaskets

Free shipping
OEM suspensions are full of rubber bushings.  They're cheap and compliant which makes for a nice smooth ride to the grocery store.  What they aren't good for is driving to the limit on track or your favorite canyon road.  As a first step toward a less compliant more controllable and precise suspension we are unveiling our rear shock mounts with spherical bearings.
The BMW rear suspension is designed in such a way that the spring loads and damper loads are resisted by different parts of the chassis (rears are not coilovers) so the main benefit of the spherical shock mount is that it will improve your shocks ability to dampen suspension movements and reduce friction in your suspension.
When traveling over a bump or rotating the car through a corner with the rubber mount, the rubber compresses first and then your damper will start to compress once the rubber mount stiffens up.  By not allowing your damper to precisely follow the tire over bumps or to follow the chassis while rolling through a turn you're effectively eliminating the damper from the suspension for a portion of the suspension's travel.
Additionally, the rubber mount resists the shocks need to pivot through the entire suspension travel because the rubber always wants to return to its original shape.  This resistance adds side load to the damper shaft which increases friction.  With a spherical bearing this resistance is eliminated and friction is reduced.
Spherical bearings with teflon linings do wear down and lead to excessive slop and a knocking or a rattling noise.  Our rear mounts are always over designed to include the largest bearing reasonably possible to extend the life of the spherical bearing and delay the onset of the bearing knock.  The bearings and retaining rings are replaceable.
As seen on the FaRKle0079 youtube channel!