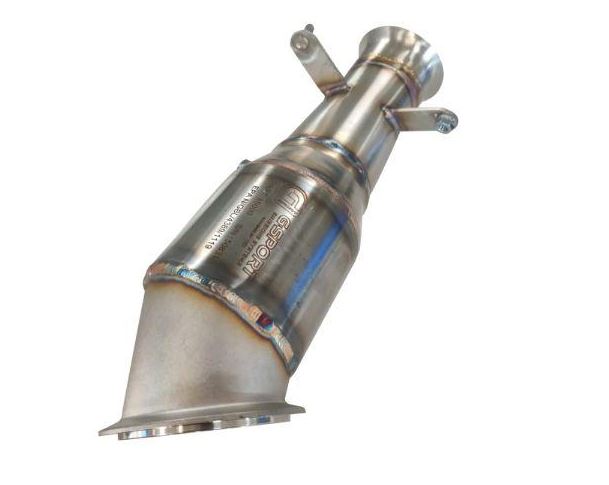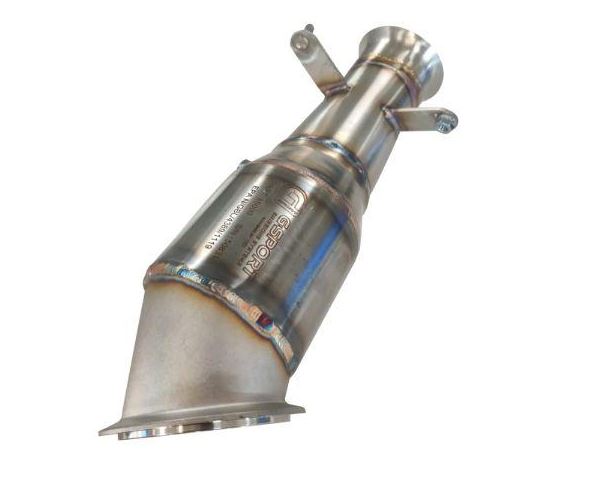 On Sale
Active Autowerke BMW N55 F-Chassis GESI Downpipe
The Active Autowerke F-Chassis N55 Signature down pipe utilizes 3.5 diameter stainless steel piping in order to provide more power, quicker spool, and extreme durability. This variant includes a 4.5" high flow GESI catalytic converter that will NOT produce a CEL
The GESi G-Sport Ultra High Output Catalytic Converter features full 304 stainless steel construction, including the substrate. GESi UHO-Series Catalytic Converters are EPA registered and compliant in 49 states and fully OBD2 compliant. GESi proprietary precious metal loading technology ensures greatly reduced emissions, eliminating most "Check Engine Lights". These high flow catalytic converters outperform stock converters and provide a reliable solution to the most common catalytic converter problems.
The GESi UHO-Series Catalytic Converters are rated for engines putting out between 500 and 850 horsepower while maintaining a high flow capacity. The reduced back-pressure from this high flow catalytic converter will allow you to maximize your engines horsepower without the harmful emissions. Say goodbye to Check Engine Lights and failed emissions tests!

Please Note: These catalytic converters are not legal for use on vehicles registered in the state of California as a result of California Vehicle Code Section 27156 and 38391.
Meat and Potatoes:
FITS ALL F-CHASSIS N55 CARS FROM 09/2013 UP ONLY
NO CEL for catalytic efficiency when using this downpipe

GESI EPA registered high flow and fully OBD2 compliant for vehicles (1996 and newer) except in California


High flow 4.50" GESI cat with 3.50" piping allows for maximum power output

Rated for 500 to 850 hp applications


Withstands up to 1500 F

Can reach operational efficiency within 9 seconds of startup

Easily bolts-on no cutting or welding required

Durable construction from TIG welded 304 stainless steel

Modular design for later upgrades


Made in Miami, Florida

Ultra high flow 400 cell per square inch catalyst

Covered by 5 Year / 50,000 Mile Warranty (on shell and tube ends) and 2 year / 25,000 Mile Warranty on the Catalytic core